How to Convert PDF to PNG - Save PDF as PNG Format in 4 Steps
PDF which stands for Portable Document Format is a hugely popular document file type known for its non-editable feature, which guarantees consistency in layout and presentation. In other words, it creates an exact replica of a physical document and makes it the same across all devices and platforms.

But as a downside, it requires a PDF document reader like Adobe Acrobat installed on the device to be any useful. Some devices do not support the software and it isn't free either. Second, PDF was primarily developed for the printing industry, and posters and flyers. So in order to maintain high-quality, it uses a lot of space. File sizes are higher too. Therefore, it cannot be used for web publishing, since the page loading speed will get slow, a bad metric for SEO.

A cheaper and easier alternative way is to save PDF as PNG. It is basically an image format and was developed keeping in mind the web publishing. One of the biggest differences between the two formats is that PDF can have multiple pages, but PNG files are always only a single-page file.


PDF To JPG Converter is a Windows PDF to image converter tool converts PDF to PNG and more image formats in bulk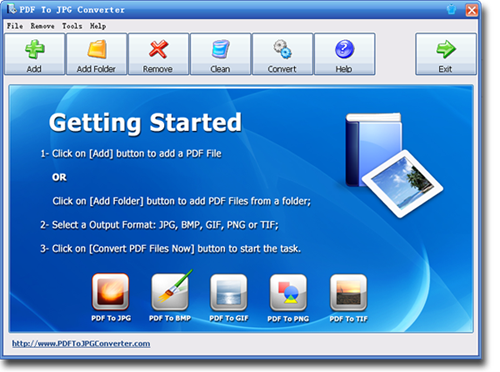 A Desktop Software Program Enables You Batch Convert PDF to PNG Easily
When you're working with a PDF file, you may be required to get it converted to PNG format for reasons discussed above. Now, the thing to note here is that PDF was made to be non-editable in the first place so as to maintain consistency. If by using any software, you make changes to it, it promises no such consistency.

But with this PDF to JPG Converter desktop software, you can easily convert your PDF files to PNG and get the exact layout. This useful utility lets you control quality with many in-built quality settings and enhances your PNG file for best visual results.


How to Convert PDF to PNG in Bulk with PDF To JPG Converter?
Converting a file to PNG from PDF is as easy as it could get in the program. As you can convert between PDF and other image formats like JPG, PNG, GIF, BMP, TIFF the process is pretty straightforward. Just follow these steps below:

1. Download PDF to JPG converter software and run the .EXE file to install. If you're a MAC OS X user, you should get PDF To JPG Converter Mac version instead.

2. Click on the add button to add PDF files, or drag and drop your PDF files into the file list straightly.

3. Change the Output Format to "PNG Files (*.png)".

4. All your PDF files will be saved as PNG images once you click on the "Convert PDF Files Now" button.

Within a few seconds, you'll get professional looking PNG images that are ready to be used for web publication or other areas. The software is easy to follow indeed!


Some advantages of the PDF to JPG Converter software:
- Save PDF as PNG format in bulk easily.
- Easily lets you convert files from PDF to PNG, JPG and more formats.
- Easy to install on either Windows or Mac.
- Light-weight with just 12 MB in size.
- Batch convert multiple PDF files, or even an entire folder.
- Choose specific pages of a PDF file to be converted.
- Quality Option allows you to set the DPI and resolution of output images.

Download Now! - (12 MB)