How to Convert PDF to TIFF
Looking for a fast and efficient tool that converts your PDF documents into images? Well, worry no more! With PDF to JPG Converter, you can convert all your PDF files to TIFF and more useful images of varying formats.


How to Convert PDF to TIFF format in 3 Steps
This is a fairly straightforward process.
Step 1: Load PDF files to the Program
You may do this by using 3 methods:

Click on the Add File option. Select the required PDF documents from your computer's memory and load them onto the application.

If you're looking to add files in batches and all of them lie in a single folder - Simply click on the Add Folder option and select the folder. All files within the folder will be automatically loaded.

If you'd like a more simple method, simply select all the files you'd like to convert and drag them onto the interface. This will load the files as well.
Step 2: Choose the TIFF Output Format
Note that the converter may not be set to the TIFF format by default. You can change this by clicking on the Output Format drop list and select TIFF format.

Click on the menu to trigger a drop down. Select the TIFF format.
Step 3: Convert PDF to TIFF
Click the Convert PDF files now button and off you go. Your brand-new, high-quality TIFF format images will be stored in a location of your choosing after the conversion is complete.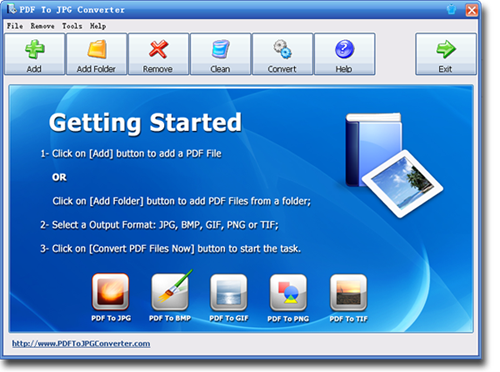 Why Prefer PDF to JPG Converter for your needs?
You must be wondering why you'd choose this specific converter over the hundred or so alternatives available in the market now. Let's just say, this converter is the best one converts PDF files to TIFF images.

- Convert your PDF files into JPEG/JPG images
Several websites often require that you submit your documents in a JPEG/JPG format. In such cases, you can rely on this nifty tool to transform PDF files into high-quality images.

- Make use of batch mode
Got hundreds of PDF files to convert? Stay away from traditional converters that require you to painstakingly go through each file. PDF to JPG Converter will change all your PDF documents into hi-res images in a matter of mere seconds. Simply load up the documents and be done in a jiffy.

- Wide range of conversion formats
Convert PDF to TIFF, JPG, PNG, GIF, and BMP via this converter. With such a wide range of options to choose from, there's no chance of you turning to another converter ever again.

- Over 50+ languages are supported
Now, we've all faced this error. We go through all the steps painstakingly and finally get the PDF files converted. Your much-needed PDF-converted images are now a string of gibberish, filled with meaningless ASCII codes and symbols. Avoid this situation by using the PDF to JPG converter. With support for over 50 languages enabled, you'll never have to worry about a situation like this ever again.

- Unprecedented Conversion Speeds
As if the above reasons weren't good enough, this converter can convert PDF files to images a whopping 180% faster compared to its next best competitor. It simply does not get better than this.
Download Now! - (12 MB)